Hurricanes in Maine
When is Hurricane Season in Maine?
Maine's hurricane season aligns with the Atlantic hurricane season, running officially from June 1 to November 30 each year. Although Maine is not typically associated with major hurricanes, the state is not immune to such natural disasters.
According to the National Hurricane Center, Maine experiences tropical storms and tropical depressions. However, compared to other states in the US, the frequency of tropical storms and hurricanes in Maine is relatively low.
The Hurricane Season Graph provides a comprehensive illustration of the likelihood of experiencing a tropical cyclone on a particular day of the year in Maine, based on hurricane paths since 1851.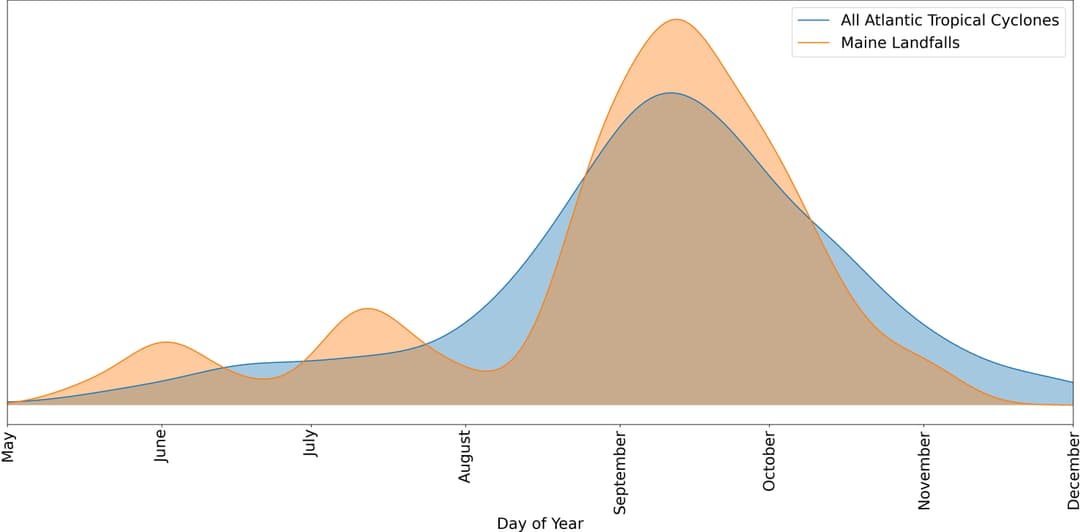 Using raw data obtained from the NOAA Hurricane Research Division, the graph compares actual storm landfalls in Maine with the storm pattern in the entire Atlantic basin.
Where Do Hurricanes Hit Most in Maine?
The coast of Maine is the region most frequently hit by hurricanes, with a specific focus on the southern coastal areas. Areas such as York and Cumberland counties are more prone to these storms due to their geographical location. Proximity to the Atlantic Ocean makes these regions a direct target for incoming hurricane force winds.
The Mid Coast, including counties like Sagadahoc, Lincoln, and Knox, also experience significant hurricane activity. However, the impact here is often less severe due to the protective barrier formed by numerous islands and peninsulas. The frequency of hurricanes decreases as one moves northwards and inland. Regions like Aroostook and Piscataquis counties are least likely to experience hurricanes.
Storm surges and large waves produced by hurricanes pose the greatest threat to life and property along the coast. Storm surge is an abnormal rise of water. This sudden rise in sea level can lead to severe flood conditions, causing extensive damage to property and posing a threat to lives.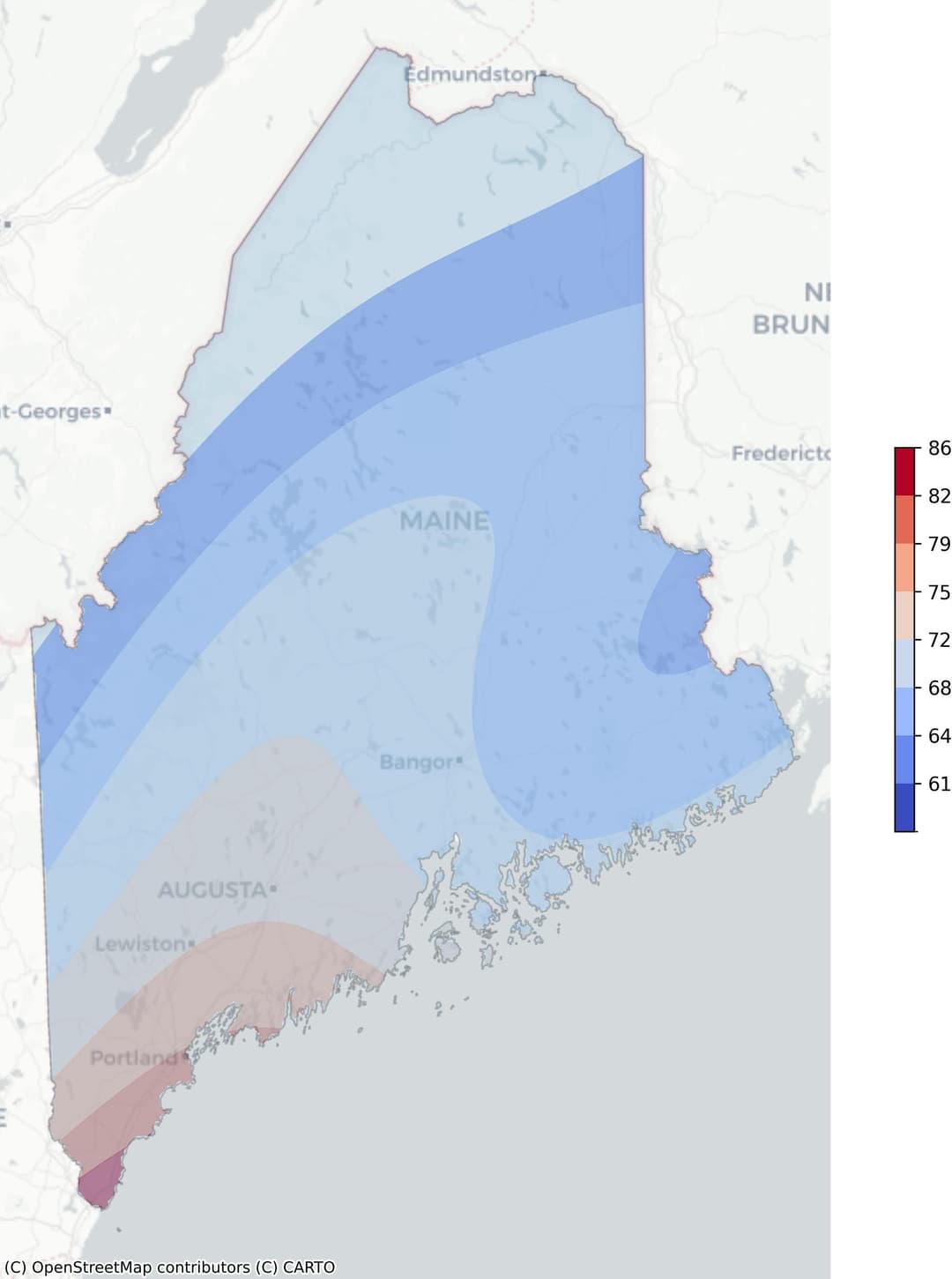 The provided graph further illustrates this distribution of hurricane risk across Maine. The frequency of occurrence, weighted by wind speed, is represented by a graduated color map ranging from blue to red.
Areas colored in red signify the highest risk and are predominantly found along the southern coast. As we move towards the north and inland, the color shifts towards blue, indicating a lower risk.
What Are the Recent Hurricanes in Maine?
Hurricane Teddy (September 2020): A post-tropical cyclone, Teddy caused high surf and dangerous rip currents along the coast of Maine. No significant economic damage or loss of life was reported.
Hurricane Dorian (September 2019): Although Maine was spared from the direct hit, the outskirts of this hurricane caused heavy rain and wind gusts in the state. No significant economic damage or fatalities occurred.
Hurricane Jose (September 2017): Hurricane Jose passed off the coast of Maine, causing high surf and tropical storm conditions. No major economic damage or lives were lost.
Hurricane Arthur (July 2014): Arthur passed offshore Maine causing heavy rain, high winds, and power outages. No significant economic damage or fatalities were reported.
Hurricane Sandy (October 2012): Known as "Superstorm Sandy," it caused considerable damage in Maine, primarily due to high winds and flooding. The economic impact was significant, but no fatalities were reported.
Hurricane Earl (September 2010): Although it stayed offshore, Earl caused high surf and minor coastal flooding in Maine. There were no significant economic losses or fatalities.
How to Prepare for a Hurricane Season in Maine
Preparation is critical in the face of a hurricane. Efficient preparation reduces potential property damage, preserves resources, and, most importantly, can save lives. Before a Hurricane
Below is a short list of steps to include in your hurricane preparedness plan:
Maintain an updated emergency kit, including essentials such as non-perishable food, water, medications, flashlights, batteries, and a first aid kit.
Establish a family emergency plan. This should include information on evacuation routes, emergency contacts, and meeting locations.
Secure your home. This may involve installing hurricane shutters or pre-cut plywood, reinforcing your garage doors, and ensuring your home's rain gutters are clear.
Check your insurance coverage to ensure it includes flood damage, a common occurrence during hurricanes.
Stay informed. Monitor local news and weather reports, and heed all evacuation orders promptly.
During a Hurricane
It's crucial to know what to do during a hurricane to ensure personal safety. Here's a concise list of recommended actions:
Stay informed: Monitor local news channels, weather forecasts, and official advisories for real-time updates.
Secure your home: Close storm shutters, and secure outdoor objects or bring them indoors.
Evacuate if advised: If evacuation orders are given, leave as soon as possible and follow designated evacuation routes.
Stay indoors: If you're not evacuating, stay inside, away from windows, skylights, and glass doors.
Avoid flooded roads: Don't drive through flooded areas; a small amount of fast-moving water can sweep away a car.
Have supplies ready: Stock up on emergency supplies like food, water, medications, and essential documents.
Protect your electronics: Unplug sensitive electronics and turn off the gas, electricity, and water if instructed to do so.
After a Hurricane
Following a hurricane, there are a number of critical steps to take to ensure your safety and start the recovery process:
Assess your safety: Check your surroundings for potential hazards. Make sure it's safe to move around before taking any other steps.
Document the damage: Take photos and videos of the damage, if possible. This will be helpful when you file an insurance claim.
Contact your insurance company: Initiate the process of how to file a car insurance claim. Provide all the necessary documentation and cooperate fully with the investigation to ensure a timely car insurance claim payout.
Contact FEMA: If the storm was declared a federal disaster, you may be eligible for additional assistance from the Federal Emergency Management Agency (FEMA).
Start the clean-up process: After ensuring your claim is in process, begin cleaning up. This includes drying out any wet items, removing debris, and making temporary repairs to prevent further damage.